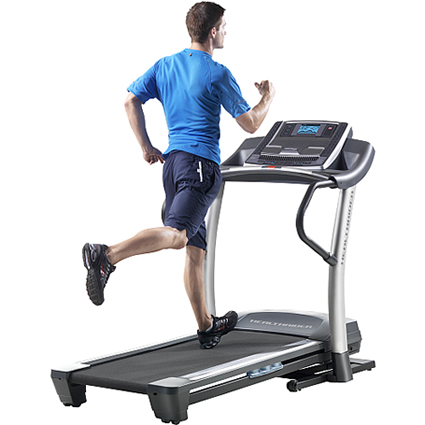 Photo Source. But I must say, this dude has some interesting form. He looks more like he is leaping than running.
The Dreadmill
The Eye Poking Machine
Mile DRAGGER-OUTTER
Watching Paint Dry Machine.
The Treadmill.
Some of us love it. And some of us dread it. For some runners, the treadmill is their first choice. They feel happy, safe from the outside weather, and in control of their pace. Some claim that the treadmill helps them gain mental strength and they like the way treadmill training translates to road running. They feel faster after training on the treadmill.
And then there are those that would rather poke a sharp stick in their eye than run over five miles on the dreaded machine. They feel like it takes away from their training and doesn't have the benefits that road running does.
If you're like me, the treadmill is a part of the family. Ha! Seriously. Although we make her sleep in the garage, she has a place in our household and I spend a TON of time with her. My treadmill is this mama's ticket to marathon training. Come to think of it, I've trained for all my marathons on a treadmill for at least part of the time. I've only run 4 marathons but the treadmill has been such a life savor when it comes to training with kids or avoiding the Oregon rain. It works well for me too. And really, I don't mind it so much. As long as I get outside for my weekend runs, I'm good to go. But there are times when I want to poke my eyes out. There are times when just the thought of one more run on that thing is the LAST thing I want to do. Times like this are when the miles
DRAG
SLOWLY
BY.
It is times like this where despite my computer, youtube options, music or phone, nothing makes it any better. I start playing games or Using Treadmill "Tricks" or things that make the time go quicker. Even if my "tricks" are stupid. Like my imaginary bell ringing for every mile I run. Now, I only do this when I'm really really bored but for some reason it helps pass the time to reward myself by putting my arm in the air and saying "ding ding ding" after each mile. I really should demonstrate for you sometimes to give you the full effect.
My friend Adrienne (who blogs at Adrienne Langelier Racing) and I were e-mailing with each other about the treadmill and we decided we'd host some fun treadmill-related contests on our blogs. Just for kicks! If you haven't visited Adrienne's blog, I hope you do because her posts are worth having on your blog roll. Not only is she an amazing athlete, but she is a therapist and sports psychology consultant. If you're a head case of a runner like me, you'd find her posts very useful. I especially loved her podcast interview on RunRunLive.
The Contest
We want to hear from you about your treadmill stories. We are both hosting contests but we each have different categories so you can enter my contest here AND then head over to Adrienne's blog and enter there. And who doesn't want something fun in the mail?! The winner of Adrienne's contest will be getting some Power Bar goodies. And the winner on my end will be getting:
1.

Mail from ME

! I promise to write you a hand written note and say nice things to you.
2. A tube of NUUN and you get to choose from their awesome flavors.
3. Other random running related things such as a gel, maybe an old sock, some sports beans...things that strike my fancy when I put your package together.
How to Enter???
So, Play along! It's fun. Choose one of the following options below to respond by leaving me a comment on here or on my Runninghood facebook. You can also send me a short video demonstrating or reenacting a past treadmill memory.

I LOVE videos!

And I'll post the winning video with a link to your blog (if you have one).
1.

What are some things you do or have done to pass the time on the treadmill?

I'm looking for most creative, funny, imaginative, innovative, interesting, practical, challenging, useful for getting in shape, etc. We could all use some extra "staying sane on the treadmill" tricks. So, please share!
2.

Funniest, scariest, or most entertaining story about being on a treadmill, falling off a treadmill, seeing someone else on a treadmill, etc

. We all have a treadmill story...right?! I know that I've fallen off of one while pregnant. Gosh, I got dirty looks for that one. Or the time I wore my pants backwards to the crowded gym and got on a treadmill feeling hot to trot. Little did I know, I looked like an idiot.
Now, after you leave a comment or send me a video to enter in this contest, head on over to see Adrienne's categories and have another chance to win. And yes, you can use the same story, or treadmill "tricks" when you enter her contest if it applies. Fun!
We will choose our winners next Sunday, April 8th. Please share this contest with your other running friends too.
Happy Treadmilling,
Amanda